575-535-4455
Check out Michael's
Gila Nature Blog!
Find out what's happening in the natural world around the Casitas.


Saw a pair of kit foxes down by the creek this morning — amazing! We had a few seconds before they disappeared into one of their den entrances. A couple of mule deer followed (from a distance). Later we saw three adult ewes and at least two lambs on the cliffs. Considering that some folks were predicting the end of the world today, the experience was sublime. ... guests from North Carolina
You have an incredible gift from God and that is to share the things you love and appreciate in nature with others in the world. ... guests from New Mexico
Enjoyed your spot in heaven immensely. It's so nice for someone to do what you have done here, for others to enjoy. A value at twice the price! We shall return! ... guests from Texas
Hard to leave, as always (my 5th time here), the beauty and peace just get richer and deeper. I am so grateful to Becky & Michael to provide this safe sanctuary—for all the creatures, including us stressed, distracted humans! The most wondrous experiences were in the night skies ... iridescent clouds dancing past the moon, framing her in beauty; Orion rising and twinkling like mad; the full moon coming up over Turtle Mesa inspired me to do Qi Gong and take in her graceful presence. ... guest from Massachusetts
We came for the stars and solitude and were not disappointed. A black bear came down the hill across the creek. The next morning he went back up and we were able to see him with the spotting scope. We had a great time. ... guests from Texas
This place is so special and was a perfect way to end our trip in NM. The casita and property are beautiful! So special to take an early morning hike on your trails. I saw so many inspiring sights! Watching the sunrise over the mountains a perfect way to start the day. We went to the Gila Cliff Dwellings and also visited downtown Silver City. Thank you so much for the beautiful retreat ... guests from Pennsylvania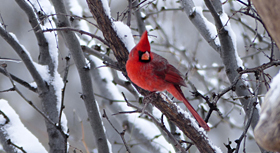 A deer, rabbits!, quail!! and cardinals and a tiny horney toad!!!. ... guests from California
What words can we find to express what an amazing time we had! From rockhounding to birding and a full moon — it was all spectacular. Michael, you have such a wonderful breadth and depth of knowledge on so many subjects. Thank you for being willing to share and answer all of our questions. We will be back. ... guests from Arizona
Your Hosts at Casitas de Gila Guesthouses…
We are Becky and Michael O'Connor, professional innkeepers, and we've been sharing our world with visitors and guests since the summer of 1987. Wow, that's 35 years now! It hardly seems that long, but it is. Time really does fly by when you're following your passion and living out your dreams! Looking back over the years since 1987, we can see that while our venue and our vision changed several times, the focus and mission of our hosting businesses remains the same: To provide our guests with access and connection to Nature in as much comfort as possible.
It all began in 1987, on the Coast of Maine, where for 5 years during the summer, Becky would place the Sir Speedy Printing Center that she owned in the care of her very-capable employees and Michael would schedule a break from his private consulting business so that we could run 3-day/4-night sailing trips on our 41-foot Lord Nelson cutter-rigged sailboat, the Kimberly Laura. Operating from our home port of Portland on Casco Bay, The Coasting Naturalist Expedition island-hopped north along the legendary rock-bound coast of Maine with Michael serving as licensed Captain and Becky as First (and only) Mate. On these trips, we took our on-board expedition members of 6 guests ashore on pristine, uninhabited islands, observing and studying the natural and cultural history of this fascinating section of the New England coast. We spent the nights in rarely-visited protected harbors, quite often feasting on fresh bluefish, caught off the stern of the sailboat during the day and barbequed on the taffrail cooker in the evening.
Then came Ireland. It was nearing Thanksgiving when we decided to escape the dreary chill of Portland in November and head to the Caribbean for some Sun. Alas, we were told, no airline seats were left for those destinations. However, our travel agent enthused, "we can get you to Ireland on a special four-day getaway, round-trip fare for $200 each!" And, so we went. We had such a wonderful time in County Clare, drinking Irish Tea, immersed in the incredible beauty of Ireland's rugged and rocky West Coast, and listening to traditional Irish music that, once back in Portland, we decided we should just pack up everything and move to Ireland. And so we did. Becky sold her printing business so she could be full-time in Ireland, while Michael continued to work with his two consulting partners in the U.S. for the first year, flying back and forth every two weeks, while he developed new clients in Ireland. We bought and renovated an old Irish farmhouse outside of Dingle in County Kerry. "The Old Stone House" B&B was open to guests from 1992 through 1998, and won a number of awards and accolades during its almost 7 years of operation. Becky ran the B&B and also organized and led hiking and other nature-oriented outdoor excursions for our guests and tourists around the Dingle Peninsula and the West Coast of Ireland, including a walking holiday around the Dingle Peninsula. Michael during this time worked as a private consultant through the Irish Government focusing on small business improvement, resource development, and several eco-tourism projects.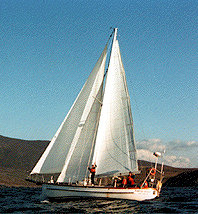 But once again, in the summer months, the Sea was calling, and Michael would take guests out on the Kimberly Laura for full-day and multi-day trips. These excursions were renamed The Celtic Nature Expedition, and sailed out of Dingle Bay to visit the incredible off-shore islands of the Blaskets, Valentia, and the Skelligs. With the able assistance of a brawny local Irish lad as First Mate (Becky had her hands full with the B&B and her other activities), we would go ashore to observe and study the natural and cultural history of this legendary land and seascape, on islands where Puffins and Gannets abound and Early Christian Monks built oratories (churches) and clochans (houses) of stone.
But after seven really wonderful years, we knew it was time to return home to the U.S. But where? We thought about returning to Maine, but no, we had been there/done that. Plus, Becky said she needed a place where she could dry out (it rains a lot in Ireland). Becky wanted Sun! This led Michael to recall the two wonderful summers he had spent in New Mexico while taking field courses in geology as an undergraduate student, along with his graduate thesis work at the University of Montana studying the geology of the Mission Mountain Wilderness, the Bob Marshall Wilderness and Glacier National Park, and his later experiences as a university geology professor working on a post doctoral project at the bottom of the Grand Canyon of Arizona. Now it was the American West that was calling, and in the end it was the Land of Enchantment, especially-wonderful New Mexico, that won out.
Initially, we were uncertain as to what we would do in New Mexico. We toured the entire western side of New Mexico the year before we returned to the U.S. from Ireland, and gradually our vision began to focus. We would remain involved in tourism and lodging, preferably near a wilderness area, with, ideally, some sort of water on the property. We were drawn to Southwestern New Mexico because we knew that wherever we set up we would have to be able to serve our outdoor-focused guests on a year-round basis. For what we wanted to do — provide access to hiking, birding, and similar outdoor pursuits — Northern New Mexico was too cold and had too much snow. Eventually, after months of consideration, we were drawn to the Gila Wilderness and in particular to the Gila Valley. Silver City was a comfortable 25 miles away for the urban connection we needed.
It was now October 6, 1998, and after many fruitless days searching in the Silver City area and just about time for us to leave the area, we called a local realtor in Gila. We told her what we were looking for and what we wanted to do. She listen carefully and immediately replied in a reassuring tone: "Why I have just the place for you!" And she did. She insisted that we come out right away and look at it. And we did. It was October, and with the last rays of the setting New Mexico Sun illuminating Turtle Rock, and the golden leaves of the Cottonwoods now blazing along Bear Creek below we saw our exact vision materialize before our very eyes ... We had found our new home.
At first we didn't know what a very special, unique piece of land we had purchased, but as time went on, it became obvious that there was nothing else like it in the area. Over the years our acreage grew from 72 to 265 as we expanded our holdings to preserve more of the incredible landscape surrounding the Casitas. We put in miles of nature trails, established what we now call the Bear Creek Nature Preserve, and set about creating what we hoped would be the perfect retreat to provide our guests with unlimited access and connection to Nature.
Here we are, 24 years later! It hardly seems possible we have been here that long. We love it here, and we're here to stay.
We hope that you will come, too, so that we can share with you our love and joy for our special Stress-Free Zone on Bear Creek in Southwest New Mexico, and you can look out over the amazing Gila Wilderness just to the north of the Casitas, and experience a truly incomparable soujourn in the Land of Enchantment.
Our English Springer Spaniels Trooper & Mitzi